ULL(A) - Ultra-Light Aircraft License
The Ultralight Aircraft category as defined by the Czech Light Aircraft Association (Letecká amatérská asociace České republiky, LAA ČR) encompasses single-engine piston aircraft with up to 2 seats and maximum take-off weight up to 472.5 kg.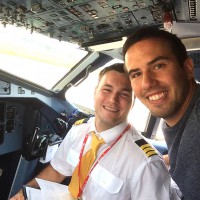 Lukáš Vokůrka
České aerolinie
"My name is Lukáš Vokůrka; I am a Professional Pilot graduate from the Czech Technical University in Prague. Since my school has a flight training partnership with F AIR, I ended up choosing them. There were other options, but I picked F AIR for their convenient location, long experience, pleasant people, and modern planes. When I'd gained my ATPL, I flew with F AIR for a while as a PPL instructor. Today, I am First Officer on ATR 42's and 72's for Czech Airlines (ČSA), the Czech flag carrier, and my job is exactly what I imagined it'd be: amazing, exciting, fun. F AIR is a big part of what made that happen for me, and I'm grateful for their solid training program." (Note: Photo shows Lukáš with another of our graduates, who flies a B737NG for Travel Service.)
Enrollment Requirements
15 years of age or older
Medical Class II (UL) Certificate or higher
Theory Lessons
The ULL(A) theory course runs a minimum of 45 hours long. You will learn air law, the basics of meteorology, cross-country flight planning, and the rules of communication and navigation. To graduate the theory course and be eligible to sign up for the flight exam, you will need to take a test with our examiner at F AIR's premises.
Flight Training
ULL(A) flight training runs a minimum of 20 hours long. The bulk of the lessons are flown with an instructor on board; the remainder is solo flight. You will learn to fly safely around your home base and visit other Czech airports during cross-country flights. If you extend your total flight time to 50 hours or more, you may then take passengers, such as friends and family. Flight training is available at our home base at Benesov Airport (LKBE) and at our branch at Pribram Airport (LKPM). To graduate, you will need to pass a final test flight with our examiner.
Already have a license? Improve your skills and knowledge with follow-on training:
Gain type ratings for more ultralight aircraft types (TECNAM P92 Echo Super, TECNAM P92 Echo Super Tow, and TECNAM P2002 Sierra de Luxe)
Get the controlled airport rating (required to land and take-off at major local airports, e.g. Brno–Turany International, Karlovy Vary International, Vaclav Havel International (Prague), etc.)
Practice international flights
ULL(A) not enough? Sign up for our LAPL(A) (Light Aircraft Pilot License) or PPL(A) (Private Pilot Aircraft License) courses; your ULL(A) will get you a reduction in the flight training time requirement.
​