PBN ADDITIONAL TRAINING

Based on Regulation (EC) No 2016/539, pilots may fly according to performance-based navigation procedures (PBN) after August 25, 2018, after they have acquired rights for PBN and have been incorporated into their (IR).

EASA/Czech CAA provides three options for obtaining the PBN qualification:
(together with the first IR qualification, if the PBN has been included in the IR training and IR Skills examination, or)
as an extension of the valid IR qualification after passing the approved theoretical course and flight training PBN in the ATO or at the AOC holder (ATO or holder of AOC issue the certificate to the applicant) and skill test or recurrent of IR including the PBN skill test, or
as an extension of a valid IR qualification, if the applicant is already provably acquainted with the PBN operations in commercial air transportation or at another operator (operator issues the certificate to the applicant), this all after passing the PBN skill test both the theory and the flight with an instructor. In this case, the applicant must respond to the 8 oral questions related to the PBN operation, at least 6 responses must be answered correctly.
see: http://www.caa.cz/personal/uplatneni-narizeni-ek-c-2016-539 (in Czech)
https://eur-lex.europa.eu/legal-content/EN/TXT/PDF/?uri=CELEX:32016R0539&from=EN

F AIR offers you the option number 2.
After completing the additional training, you will receive a certificate, on which base the examiner will examine you from the PBN. Either during your regular IR recurrent (if you have it till the 25th of August 2018), or during the PBN skill test, which must be done until the 25th of August 2018, in the case you want to fly PBN after this date. About the PBN skill test we will inform you later.
Note: In the airspace of the Czech Republic, the PBN qualification for the IR pilot is almost necessary due to RNAV tracks, RNAV STAR, RNAV SID and RNP approach.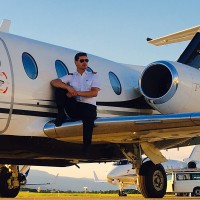 David Jelínek
Time Air
"I completed my flight training and learned the basics of the pilot's craft at F AIR. I now fly as First Officer on a Nextant 400XT in the business aviation industry, and I can say a dream's come true for me."
Enrollment Requirements
minimum Medical II. class with audiometry extension
IR (A) SEP or IR (A) MEP qualification or a completed training course containing IR parts without PBN
Theory Lessons
For the PBN theory, the dates in the following form are listed.

Flight Training
Ground preparation (conversion of the theory into practice, SOP F AIR for PBN, setting and checking of GNSS devices, ...) in 2:00 and flight on simulator (normal and emergency procedures) at 4:00. The term of practical training will be agreed with the client individually after completing the theory.