MEP - Multi-Engine Piston Aircraft Rating
MEP rating is an essential step towards becoming an airline pilot; it is also available to hobbyists, for whom it may represent a welcome enhancement of the range of airplanes they can fly. If you prefer or need to make longer flights, twin-engine planes offer superior safety, speed, and comfort.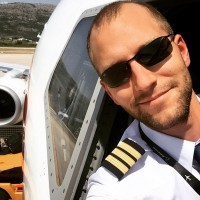 Jiří Šátek
Travel Service
"When I enrolled for the Professional Pilot program at the Czech Technical University years ago, I'd never flown a plane before. I decided to go with the integrated training course, and after a careful assessment of all the available alternatives, I chose to train with F AIR. To this day, I've never regretted it: prestigious flight school, first-class ground support, friendly atmosphere, professional staff, lots of planes, and home base at the charming Benešov Airport. Making it into an airliner cockpit is a long, demanding journey, but F AIR's first-class training made it a little easier for me."
Enrollment Requirements
PPL(A) license or higher
Medical Class II Certificate or higher
70 h minimum flight time as Pilot in Command (PIC)
Theory Lessons
The MEP Theory course runs 7 hours long and includes topics specific to multi-engine planes: handling asymmetrical thrust during single-engine operation, the proper procedure for securing a failed engine, etc.
Flight Training
MEP flight training runs a minimum of 6 hours long. Flight training is finished by skill test.