MEP - Multi-Engine Piston Aircraft Rating
MEP rating is an essential step towards becoming an airline pilot; it is also available to hobbyists, for whom it may represent a welcome enhancement of the range of airplanes they can fly. If you prefer or need to make longer flights, twin-engine planes offer superior safety, speed, and comfort.
SPECIAL PRICE OFFER: 15% OFF TRAINING FROM 10/2023

LESSONS CAN BE STARTED ONLINE!
SPECIAL OFFER PRICE APPLIES TO TRAINING WITH COMPLETION OF TRAINING BY 31.03.2024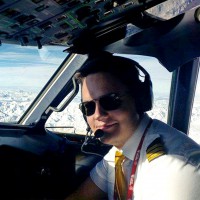 Tomáš Ullrich
České aerolinie
"Time spending in F AIR was three amazing years of flying and learning, meeting new people, seeing new places and building up piloting experience. I particularly valued the friendly atmosphere and the modern and varied aircraft fleet; I flew everything from Cessnas to Pipers to Tecnams. Less than a year after I completed my training at F AIR, I was hired by Czech Airlines; now, I am First Officer on ATR 42/72 turboprops, and a dream's come true for me."
Enrollment Requirements
PPL(A) license or higher
Medical Class II Certificate or higher
70 h minimum flight time as Pilot in Command (PIC)
Theory Lessons
The MEP Theory course runs 7 hours long and includes topics specific to multi-engine planes: handling asymmetrical thrust during single-engine operation, the proper procedure for securing a failed engine, etc.
Flight Training
MEP flight training runs a minimum of 6 hours long. Flight training is finished by skill test.