MEP - Multi-Engine Piston Aircraft Rating
MEP rating is an essential step towards becoming an airline pilot; it is also available to hobbyists, for whom it may represent a welcome enhancement of the range of airplanes they can fly. If you prefer or need to make longer flights, twin-engine planes offer superior safety, speed, and comfort.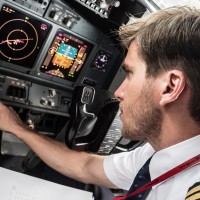 Slávek Krch
Travel Service
"F AIR is an awesome flight school; years ago, I chose them for my pilot training, and I've never once regretted it. They have great ground support and a large fleet kept in top condition by talented mechanics. I'm very grateful to my instructors for helping learn the tons of facts needed, and for trying to teach me to fly right. I'm even more grateful for having had the chance to accumulate a great deal more flight experience later on as a member of the instructors team... Flying VFR Benešov to Valencia, in a small plane, in autumn, isn't something you forget."
Enrollment Requirements
PPL(A) license or higher
Medical Class II Certificate or higher
70 h minimum flight time as Pilot in Command (PIC)
Theory Lessons
The MEP Theory course runs 7 hours long and includes topics specific to multi-engine planes: handling asymmetrical thrust during single-engine operation, the proper procedure for securing a failed engine, etc.
Flight Training
MEP flight training runs a minimum of 6 hours long. Flight training is finished by skill test.