MEP - Multi-Engine Piston Aircraft Rating
MEP rating is an essential step towards becoming an airline pilot; it is also available to hobbyists, for whom it may represent a welcome enhancement of the range of airplanes they can fly. If you prefer or need to make longer flights, twin-engine planes offer superior safety, speed, and comfort.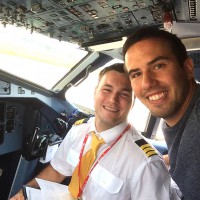 Lukáš Vokůrka
České aerolinie
"My name is Lukáš Vokůrka; I am a Professional Pilot graduate from the Czech Technical University in Prague. Since my school has a flight training partnership with F AIR, I ended up choosing them. There were other options, but I picked F AIR for their convenient location, long experience, pleasant people, and modern planes. When I'd gained my ATPL, I flew with F AIR for a while as a PPL instructor. Today, I am First Officer on ATR 42's and 72's for Czech Airlines (ČSA), the Czech flag carrier, and my job is exactly what I imagined it'd be: amazing, exciting, fun. F AIR is a big part of what made that happen for me, and I'm grateful for their solid training program." (Note: Photo shows Lukáš with another of our graduates, who flies a B737NG for Travel Service.)
Enrollment Requirements
PPL(A) license or higher
Medical Class II Certificate or higher
70 h minimum flight time as Pilot in Command (PIC)
Theory Lessons
The MEP Theory course runs 7 hours long and includes topics specific to multi-engine planes: handling asymmetrical thrust during single-engine operation, the proper procedure for securing a failed engine, etc.
Flight Training
MEP flight training runs a minimum of 6 hours long. Flight training is finished by skill test.