Flight simulator SoftekSim FNPT II - LKKV
Number of aircraft in fleet
IFR, MEP
The SoftekSim FNPT II flight simulator is a true copy with the exact configuration of the Tecnam P2006T aircraft. The manufacturer is the renowned company SoftekSim. The simulator meets all the most demanding criteria for instrument flight training on twin-engine aircraft.
* All prices are listed exclusive of 21% VAT
Uses
PPL(A) - Private Pilot License training (particularly instrument flight lesson)
FI(A) - Flight Instructor training
MEP - Multi-Engine Piston aircraft training
IR(A) - Instrument Rating training
CPL(A) - Commercial Pilot License training
ATPL(A) - Airline Transport Pilot License training
The simulator is further useful in:
Training for pilot license examinations and periodic license renewal examinations
Instrument flight refresher and skill maintenance sessions
Multi-engine aircraft refresher and skill maintenance sessions
Basic and advanced instrument flight training
Night flight training
Advanced poor-weather flight training
Key Features
Compatibility with F AIR flight school training aircraft
Compatibility with MEP (multi-engine piston engine) aircraft class
Easy control without distracting the student's concentration on training
Extraordinary variation of modes and settings of flight parameters
Large-area realistic 3D visualization with a viewing angle of 180 °, processing satellite images of the earth's surface and computer-generated 3D models of airports, terrain, buildings, obstacles, etc.
Simulation of many types of faults and failures of aircraft systems
Accurate and clear evaluation of the training lesson
EASA FNPT II certified simulator
Certification for Performance Based Navigation training
The latest Garmin G950 avionics
Realistic sound simulation
NavData database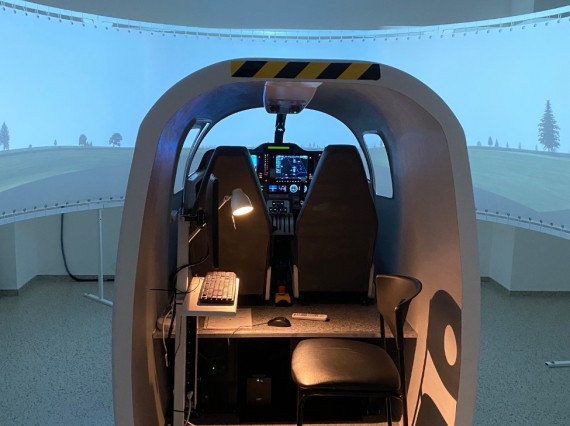 Do you want to fly on our simulator?