IR(A) - Instrument Rating
This course aims to train pilots to the standards required to pilot airplanes during IFR flight and in instrument meteorolgical conditions (IMC). The training focuses on the correct operation of avionics and the specific requirements on piloting technique and communication during flight, approach, and landing. You will also learn to use the full functionality of the Garmin G1000 glass cockpit and the Garmin GTN750 navigation instrument.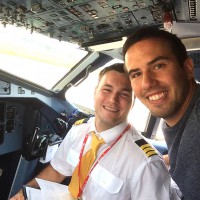 Lukáš Vokůrka
České aerolinie
"My name is Lukáš Vokůrka; I am a Professional Pilot graduate from the Czech Technical University in Prague. Since my school has a flight training partnership with F AIR, I ended up choosing them. There were other options, but I picked F AIR for their convenient location, long experience, pleasant people, and modern planes. When I'd gained my ATPL, I flew with F AIR for a while as a PPL instructor. Today, I am First Officer on ATR 42's and 72's for Czech Airlines (ČSA), the Czech flag carrier, and my job is exactly what I imagined it'd be: amazing, exciting, fun. F AIR is a big part of what made that happen for me, and I'm grateful for their solid training program." (Note: Photo shows Lukáš with another of our graduates, who flies a B737NG for Travel Service.)
Enrollment Requirements
PPL(A) license or higher
NIGHT qualification
MEP rating (for IR(A) MEP training)
Medical Class II Certificate (with audiometrics) or higher
50 h minimum flight time in VFR cross-country navigation flight as Pilot in Command (PIC)
Enrolled in IR(A) or ATPL(A) Theory course
Adequate English language skills - preferably ICAO English certificate
Theory Lessons
Theory lessons are organized as the IR(A) Theory course. You will also need to take the IFR English exam as part of your training.​
Flight Training
Flight training consists of a minimum of 20 hours in an IFR-approved airplane plus 30 hours in the FNPT II flight simulator. MEP VFR holders may take their flight lessons in a twin-engine plane; in this case, the flight training curriculum runs five hours longer.
SEP: Price on request MEP: Price on request