EIR(A) - En-route Instrument Rating
The En-route Instrument Rating is a great complement to a PPL(A) license; it can greatly simplify the planning and execution of your flights. You depart your starting point in VFR; when convenient, you switch to IFR and continue on instruments to your destination. While the ability to fly in poor weather is valuable, the main benefit of EIR(A) is the increased piloting comfort on published routes, which have controlled safe altitudes and mostly also traffic separation intervals. Once near your destination, you switch back to VFR for approach and landing. This obviates the need for complicated monitoring of approach vectors, as well as the difficulty of approach on instruments. If your destination is a small local airfield, it is unlikely to be equipped for approach on instruments, anyway.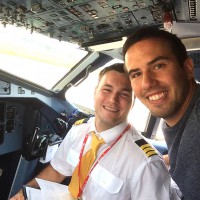 Lukáš Vokůrka
České aerolinie
"My name is Lukáš Vokůrka; I am a Professional Pilot graduate from the Czech Technical University in Prague. Since my school has a flight training partnership with F AIR, I ended up choosing them. There were other options, but I picked F AIR for their convenient location, long experience, pleasant people, and modern planes. When I'd gained my ATPL, I flew with F AIR for a while as a PPL instructor. Today, I am First Officer on ATR 42's and 72's for Czech Airlines (ČSA), the Czech flag carrier, and my job is exactly what I imagined it'd be: amazing, exciting, fun. F AIR is a big part of what made that happen for me, and I'm grateful for their solid training program." (Note: Photo shows Lukáš with another of our graduates, who flies a B737NG for Travel Service.)
Enrollment Requirements
PPL(A) license or higher
Medical Class II Certificate or higher
Enrolled for EIR(A) Theory course
Adequate English language skills - preferably ICAO English certificate
Theory Lessons
Theory lessons are organized as the EIR(A) Theory course. You will also need to take an IFR English exam as part of your training.
Flight Training
Flight training consists of a minimum of 15 hours in an IFR-approved plane. MEP VFR holders may take their flight lessons in a twin-engine plane; in this case, the flight training syllabus runs one hour longer.
SEP: Price on request MEP: Price on request