CPL(A) - Commercial Pilot License
CPL(A) training is intended for pilots looking to take the next step in their career, towards becoming a professional pilot. CPL(A) holders may seek employment with commercial airlines.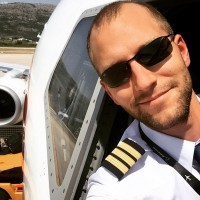 Jiří Šátek
Travel Service
"When I enrolled for the Professional Pilot program at the Czech Technical University years ago, I'd never flown a plane before. I decided to go with the integrated training course, and after a careful assessment of all the available alternatives, I chose to train with F AIR. To this day, I've never regretted it: prestigious flight school, first-class ground support, friendly atmosphere, professional staff, lots of planes, and home base at the charming Benešov Airport. Making it into an airliner cockpit is a long, demanding journey, but F AIR's first-class training made it a little easier for me."
Enrollment Requirements
PPL(A) license
Medical Class I Certicate or higher
150 h minimum total flight time (previously-gained qualifications count towards total)
Flight Training
CPL(A) flight training is highly variable in extent, with the number of hours you are required to fly in training with us depending on your previously-gained qualifications. Typically, flight hours range 15 to 30 (with minimum 5 hours on complex aircraft). If you are also certified for IR(A) and MEP, in addition to a CPL(A), you only need 15 additional hours of flight time.