===========================================================================================================================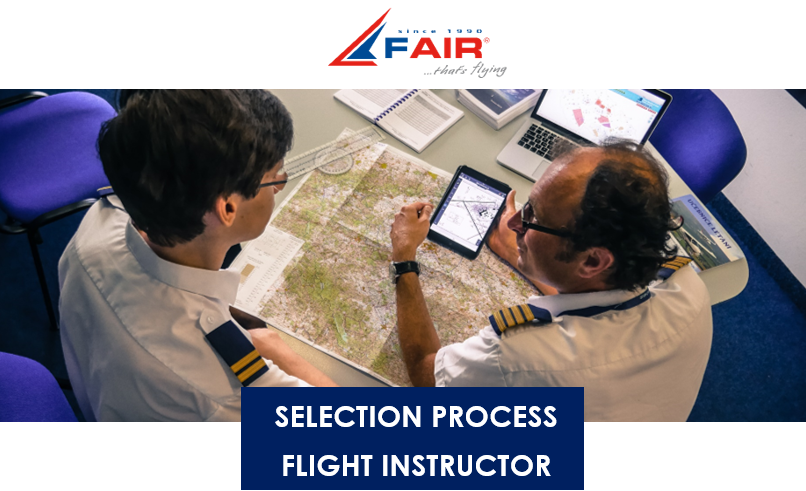 SELECTION PROCESS - FLIGHT INSTRUCTOR
F AIR, spol. s.r.o. Benešov Airport, Nesvačily 126, 257 51 Bystřice u Benešova, CZ/ATO-001 announces a selection process for new flight instructors. We are looking for experienced instructors with at least 200 hours of flight experience as an FI(A).
WE OFFER:
• Full time, possible part time
• Monthly flight hours up to 70 - 80 hours
• Attractive remuneration, with newly increased rates from September 2022
• Benefit system (extension and broadening of qualifications)
• Opportunity for personal and professional growth
• Experience working in an international environment
• Work in a team of experienced professionals with experience in all areas of aviation (airlines, business aviation, test flights, military, aerobatic competitions, ...)
• Flying all over Europe and the possibility to work abroad
• Experience with different types of aircraft GA with modern equipment (including G1000 and other avionics)
• The possibility of personal development through participation in various projects
• Financial evaluation beyond the basic remuneration when working on individual projects
• Modern teaching support - E-learning, E-exam, Flynet internet reservation system, virtual reality
• Prepared aircraft on the ready to fly stand
• Extreme flexibility in work/life split, where you will be home almost every evening
• The possibility of securing accommodation at or near the airport

WE REQUIRE:
• Minimum CPL (A) license with FI (A) qualification
• Flying as an FI(A) for a minimum of 200 hours
• Current or former holder of an IR(A) qualification possibility to renew the qualification
• MEP Land qualification, MEP/IR an advantage
• Good knowledge of English language, ability to teach in English
• Basic knowledge of working with a computer
• Proactive attitude, communicative and pedagogical skills
INTERVIEW:
• Oral conversation in Czech and English
• A short demonstration of teaching in English
• Knowledge test
• Introductory flight test on an airplane or simulator
PLACE OF OPERATION:
Benesov and Karlovy Vary airports
WHY FLY FOR F AIR?
Because F AIR is a first-class, modern and dynamic flight school with an excellent reputation for more than 32 years. We have trained over 2,500 pilots flying all over the world, including the most important airlines in the world. We operate more than 40 aircraft of different types, 2 simulators and offer all courses from 0 to ATPL frozen. We have excellent facilities, we operate at 4 bases, namely the home airport in Benešov, Karlovy Vary, Brno and Příbram. Smooth operations are ensured by a large ground staff of more than 30 experienced colleagues.
If you are interested, do not hesitate to contact us at career@f-air.cz.
===========================================================================================================================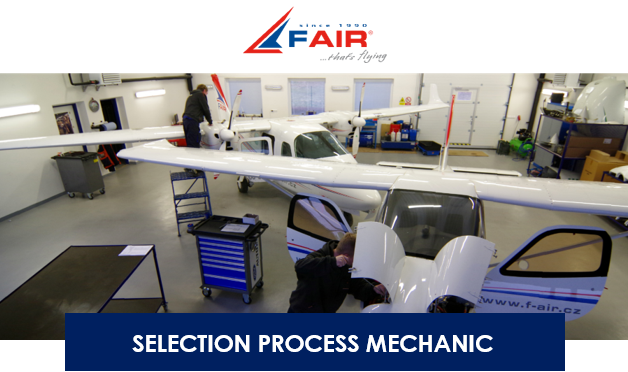 SELECTION PROCESS MECHANIC
F AIR, spol. s.r.o. Benešov Airport, Nesvačyly 126, 257 51 Bystřice u Benešova, the organization performing maintenance, announces the start of a selection process for the position MECHANIC for our branches at
Benešov Airport and Karlovy Vary Airport.

CANDIDATE REQUIREMENTS:
• Secondary school in a technical field
• Knowledge of the English language is an advantage
• Driving license type B
• Part 66 aircraft maintenance license is an advantage
JOB DESCRIPTION:
• Regular maintenance and inspection of aircraft
• Perform disassembly and assembly of aircraft components
WE OFFER:
• A good salary evaluation
• The possibility of training under favorable conditions
• The possibility of participation in operational flights
• Food allowance
• Contribution to pension insurance after one year in the company
• The possibility of qualification improvement
• 5 weeks of vacation
• Discounted fuel card after the probationary period
PLACE OF OPERATION:
• Benešov Airport
• Karlovy Vary Airport
If you are interested, do not hesitate to email us your CV: career@f-air.cz
===========================================================================================================================