We are currently looking for candidates for
FULL TIME VFR LKBE
FULL TIME SEP/IR a MEP/IR LKBE a LKKV
6-MĚSÍCŮ VFR LKKV, LKCS, LKTB
Become part of our instructor team
Last year, we have opened a recruitment program for new instructors. The program is suitable for graduates and also for airline pilots who would like to get back to the roots of small flying. Therefore, the work is guaranteed!
Why fly for F AIR?
For new student groups and an expanding instructor team, we have built up a brand new facility in recent months. In addition to modern and spacious classrooms, we did not forget the needs of our instructors. Nowadays in our school, you can find a new instructor's office, kitchen and a relaxation room. So, after returning from the night flights, enough comfort is guaranteed, and we believe that the shower on a hot summer afternoon will also come in handy.
Why work in the Czech Republic?
Czechs are recognized experts in many fields of human activity, from science, industry and innovation to sport to culture and gastronomy. So, we chose "Czechia has marvellous people" as the motto of the new clip you can watch here. Rest assured that we included the best Czechia has to offer. However, we sincerely hope you will experience it on your own eyes here in Central Europe. We look forward to seeing you!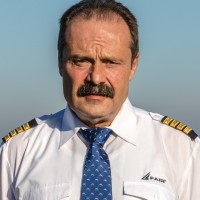 Capt. Vladislav Pružina, Ph.D.
F AIR
Do not miss the opportunity to improve yourself! Engage in the ATO F AIR. This oportunity is focused on new pilots, as well as for us who have been flying in airlines for many years. You will gain new pilot and pedagogical experience. All of this will surely bring you more pleasure and satisfaction from flying than ever before. An insignificant fact will also be to increase your pilot potential and value in any selection procedure to airlines. Why F AIR? Focus on flight safety, perfect facility, experienced instructors, training of foreign students, benefits in training. I warmly recommend!
We offer
Experience with different types of GA aircraft with modern equipment (incl. G1000 and other avionics)
Relevant operational experiences from a private company
Attractive salary
Brand new benefit system (incl. revalidation and renewal costs, qualification upgrade)
Possibility of personal and professional growth
Experience with international working environment
Flying around Europe
Full time (up to 900 hours a year)
Task bonuses when working on separate projects
Flexible job
Accommodation
Immediate start day
Visa and work permit assistance​
All branches of F AIR in the Czech Republic
We require
FI(A) qualification, min. CPL
Good knowledge of English language
PC work fundamentals
Proactive approach
Communication skills

NON-EASA HOLDERS:

Holder of ATPL/CPL/MEP IR license
TT more than 700 hrs A/C
More than 200 hrs as a FI
At least 50 hrs as a FI in last 12 months
​
Location
All branches of F AIR in the Czech Republic: LKBE, LKKV, LKCS, LKTB
​